The Beam Raising Ceremony of LAYANA New Plant
22/07/16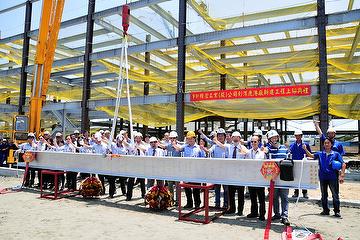 The Beam Raising Ceremony of LAYANA New Plant
The Beam Raising Ceremony of LAYANA New Plant was Held, Blessing for a Better Future.

The construction of LAYANA Chang-bin New Plant has started since September 2015. After more than 10 months of endeavor, the beam-raising ceremony is finally held today.
In order to achieve the "steel structure quality standard," the accuracy of each welding assembly point is required to pass SGS's testing. All of the construction workers commented that, this building is even more difficult to build than Miaoli HSR station.
We deeply appreciate all honorable guests' visit for the significant milestone of LAYANA.
When the "gold screw" was tightened, and the large crane arm rose up slowly until it reached the steel structure top, we know that we are only to present better professional service, guiding LAYANA toward a more glorious future.
Hopefully the following construction will also go safely and smoothly.